A San Diego-based
dance crew composed of Asian American members is celebrating middle-aged women worldwide. 
Earlier this month,
Ajumma EXP, which has
more than 30 members
, brought joy to the streets of San Diego with hip-hop flash mobs in honor of Women's History Month, specifically in recognition of International Women's Day on March 8.
According to Lee Ann Kim, flash mob organizer and co-founder of Ajumma EXP, the crew prepared for this event for over five months. The preparation, which ranged from choreographing to wardrobing, created a special sense of camaraderie among the women. 
Kim told NextShark that most of the crew's members were initially strangers who had come from different walks of life, and that some of them had never even danced before. Their shared courage to do something new together is what transformed their group into a sisterhood, bringing joy to "people around the world who appreciate that life does indeed get better with age."
The long months of preparation finally came to fruition on March 5 at
three San Diego locations
: Chicano Park, Fashion Valley Mall and Mission Beach.
"The whole day flew by but the moments when we were dancing pleasantly stretched. All those smiles from our families, friends and Ajumma fans were so fun to see while dancing," Saerin Cho, a member of Ajumma EXP, told NextShark. "I'm grateful for the sisterhood of Ajumma EXP.  And I hope we inspire all middle-aged women to find joy and celebrate where they are in life!"
Though the term "ajumma," which is a Korean word for a middle-aged woman, tends to have negative connotations, Ajumma EXP are reclaiming the title with pride. 
On their
official website
, the group describe themselves as "fierce women who embrace growing older, getting wiser, and being able to laugh at ourselves."
Subscribe to
NextShark's Newsletter
A daily dose of Asian America's essential stories, in under 5 minutes.
Get our collection of Asian America's most essential stories to your inbox daily for free.
Unsure? Check out our Newsletter Archive.
Nowadays, it is considered an insult to be called an Ajumma, but we believe that Ajummas are fierce, tenacious, and have endured challenges throughout their lives. They have earned the right to be who they want to be, say what they want to say, and deserve the world's respect. We are Ajummas and proud.
Kim recounted the event that sparked the creation of Ajumma EXP with friend and co-founder Sonia Chin. 
On Kim's 47th birthday, her friends surprised her by showing up in "ajumma" outfits consisting of brightly patterned floral pants, sensible shoes, mismatched tops, visors and, to top it all off, tightly permed wigs. After a quick outfit change to match the rest of the group, Kim and her friends headed into town for a night out.
Despite their roaring celebration and eye-catching outfits, they received little attention at the bar. This experience served as a reminder to Kim of how often women are overlooked simply because of their appearance.
The rage Kim felt that night from feeling "invisible" incited her and Chin to create Ajumma EXP after some personal introspection into her own biases. Kim began to think about how she also tended to overlook and feel embarrassed by older Asian women, similar to how she hoped others did not perceive her. This moment of realization led Kim to want to showcase the vitality of these women who remain youthful and capable under their perms and visors.
"We asked ourselves, what would be the most unexpected thing we could do dressed up as ajummas? A flash mob, of course. And not just any flash mob, it has to be hip-hop!" Kim said, highlighting the importance of surprise and unpredictability in Ajumma EXP's performances.
Just one week after Kim's birthday, Kim and Chin began planning their first flashmob, then successfully executed it within two months. Though the group initially practiced in Kim's garage, they soon outgrew the space and rented a studio to accommodate their growth.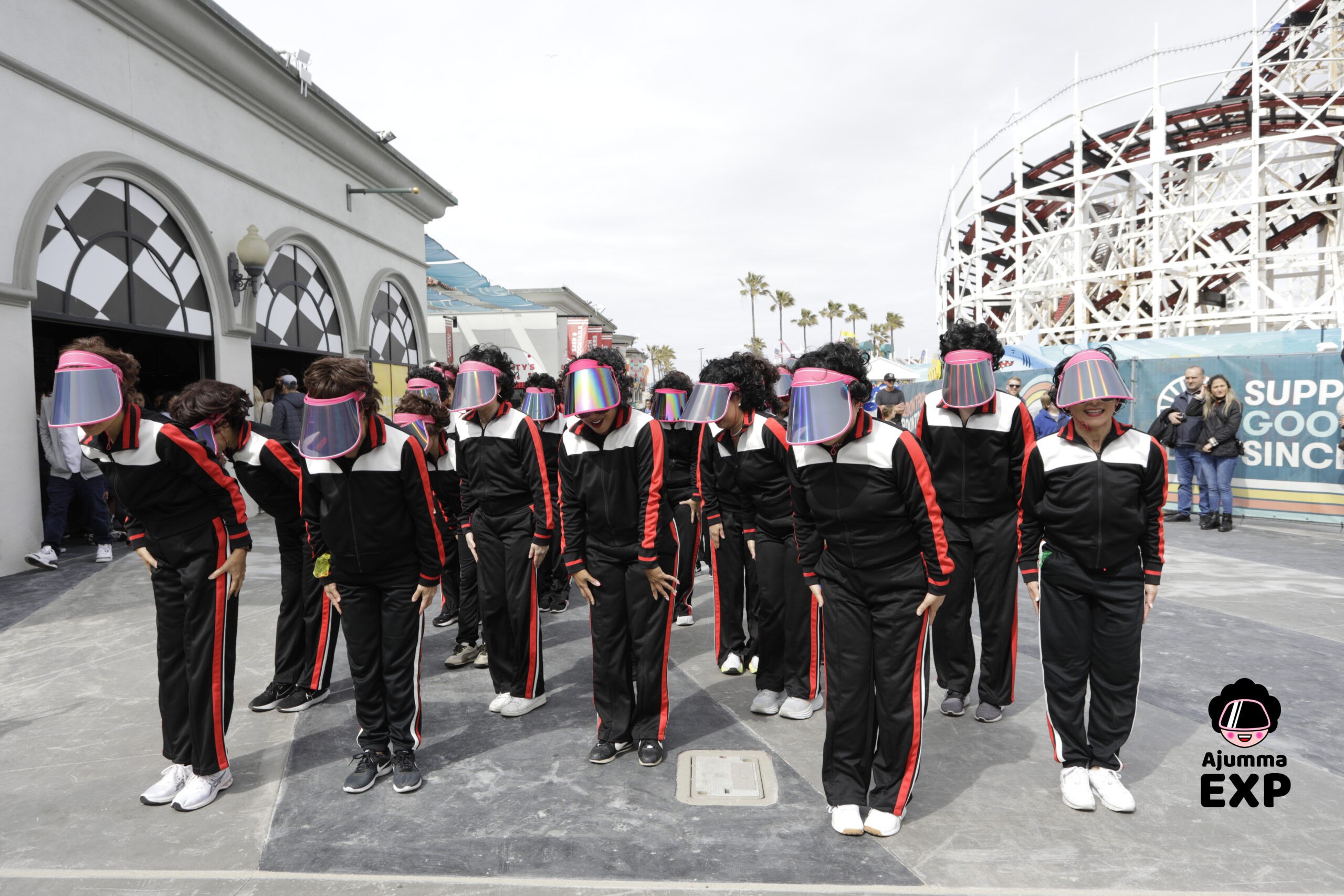 Ajumma EXP member Janet Kim initially joined the group while searching for some fun and joy, but she ended up finding much more.
According to Kim, the women of Ajumma EXP "care deeply and aren't afraid to take risks." She described participating in the flash mobs as a "total blast" since it provides the opportunity to "dress up incognito and dance, while stretching not only our bodies, but also boundaries and expectations."
For six years and counting, Ajumma EXP have been working tirelessly to defy the stereotype of "undesirable" middle-aged women confined to motherhood.
The group's fearless members celebrate women of all backgrounds by shining a spotlight on the vibrant and multifaceted lives of ajummas. With no signs of slowing down, Ajumma EXP continue to push boundaries and inspire others.
In the past two years, Ajumma EXP have gone viral in South Korea; performed in a rap music video for the film "Summertime" with Dumbfoundead; and even received an invitation from the White House to participate in its virtual Lunar New Year commemorations. 
Those interested in joining Ajumma EXP can contact the group through their
website
. Kim emphasized that "no dance experience [is] needed, and you don't even have to be Korean or Asian." The only requirement to join their crew is being middle-aged, or more accurately, "ajumma status." 
---